I hate pictures of myself. Have I said that enough? But, oh wells. Here goes.
Ansley:
Sweater dress from Baby Gap
red tights from Old Navy
Black shoes, thrifted
Here's a better look at her dress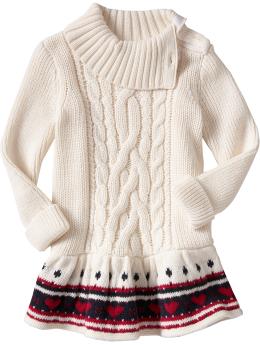 I love this dress!
On the Momma:
Cardigan, Old Navy
Three-quarter boat neck top, Um, yeah, Old Navy
Saturday Ansley and I took a trip to the in-laws for a baby shower. It meant 4-hours round trip, but it was worth it. Ansley seemed to have fun with her cousins. She doesn't get a lot of time with kiddos around her age, so it was pretty cool to see her interacting with other kids.
We also enjoyed a day out on Sunday:
Ansley
Heart-print corduroy dress, Old Navy Brand, thrifted
pink tights, Target
Momma
Scarf, ages old (I'm talking, high school old)
Sweater, Aeropostale
Tank, JC Penny
Jeans, Aeropostale
Sunday was actually a pretty lazy day, but I opted for a picture cause we've missed a few SOS posts.
And, honestly? I'm running low on inspiration as of late. Maybe it's the holidays, and all the hustle that comes with it. Who knows.
Happy Monday!